Football League (NPFL) side, Abia Warriors headed by Pastor Emeka Inyama has provided palliatives to the loyal supporters of the club, to cushion the hard effect of the Coronavirus Pandemic.
The distribution of the relief packages which included mainly food items, took place Monday May 4, 2020 at the club's Complex in Umuahia.
Pastor Emeka Inyama – the Executive Chairman of Abia Warriors, presented the items on behalf the board, management and players of the club, thanking the Supporters Club for their unalloyed support.
"It is very necessary to reach out to them in times like this, they have been amazing with their loyalty to the club and have never ceased rendering their support to the team through thick and thin," Inyama said.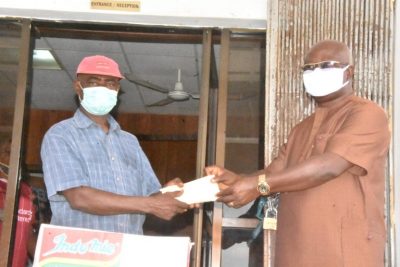 Abia Warriors board chairman Pastor Emeka Inyama (r) presents Covid-19 palliatives to the Supporters club chairman, Comrade Ifeanyi Okereke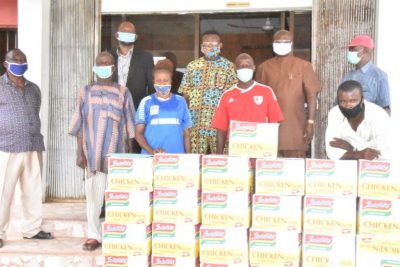 "We, the board members, had to task ourselves to get this done on behalf of the management and players and I know this gesture will gladden your hearts, it is my earnest prayer that none will be found wanting when the league resumes."
The Abia Warriors boss charged the Supporters Club to keep adhering to all the precautionary measures which will help them stay safe.
Chairman of the supporters club, Comrade Ifeanyi Okereke, while reacting to the overwhelming gesture, thanked the club's board led by Pastor Inyama for having their welfare at heart during the rough times as a result of the deadly Coronavirus.
He reaffirmed the Supporters Club's unflinching support for the team.
The items made available to the Supporters club includes food items, hand sanitizers, liquid soap and undisclosed amount of money.